Equipment – Our disco lighting equipment and sound systems have the clearest sound with the right punch, giving CD clarity and not just a lot of noise blasting the crowd's ears, whilst all of the time being played at the right level to suit your party.
Bands have two settings, ON and OFF. This is not the case with ourselves, we pride ourselves on playing music at the right level.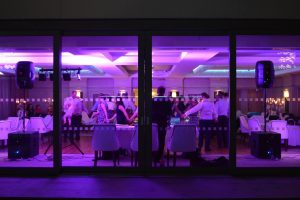 DJNI – Wedding Parties – Birthday Party – DJ Belfast – DJ Northern Ireland
DJNI take sound as seriously as their playlists. so you're sure of the will right atmosphere for your night. We believe it's not necessary to play at such a volume that will damage your eardrums, or upset elderly relatives. The level will be comfortable for all to enjoy. Chris & Dave have been fulfilling a wedding DJ in Belfast role for many years. Our energy and confidence at weddings and birthdays is what sets DJNI apart as a professional DJ setup.
Call us today on 07849 082 858 to inquire of availability or send an email to check prices at info@djni.co.uk
Lighting Effects
We believe that our colourful discos are as important as sound to help make a great-looking party atmosphere. Our lighting package and rig is regarded as impressive, it is NOT a couple of boxes of lights and a strobe blinding your guests. This lighting show is large and colourful.
It has taken a lot of time and effort gathering just the right lights to make this show the showcase it is, giving the right visual for your guests which will make it just right for your occasion. You can upgrade your package with us to include a bigger sound system and larger lighting rig, we call it the Nightclub Pro Rig (ask for details)
Room Up Lighters
Up lighters to hire or colour your room.
Sound Systems & Equipment Hire
We use only the finest music systems, giving you the best sound for your event. We have 2 systems all suited for different sized rooms & different size of crowds.
Mackie Thump – 12″ active speakers of small to medium rooms or crowds. Small in size, great in punch and don't stand out, making them the perfect option for small intimate venues.
JBL EON tops and base units. Supplied by Baird Sound Systems. These speakers delivers a great sound every single time and very portable. Easy to set up with minimal fuss and fill the very largest of venues.