2020…what can I say? It's been a tough year for a lot of people especially with the outbreak of the Covid 19 pandemic. Even before lockdown, families across Northern Ireland were already suffering from another illness, one that can be tough to talk about, one that is taking grip more and more across our land, and what I'm talking about here is mental health.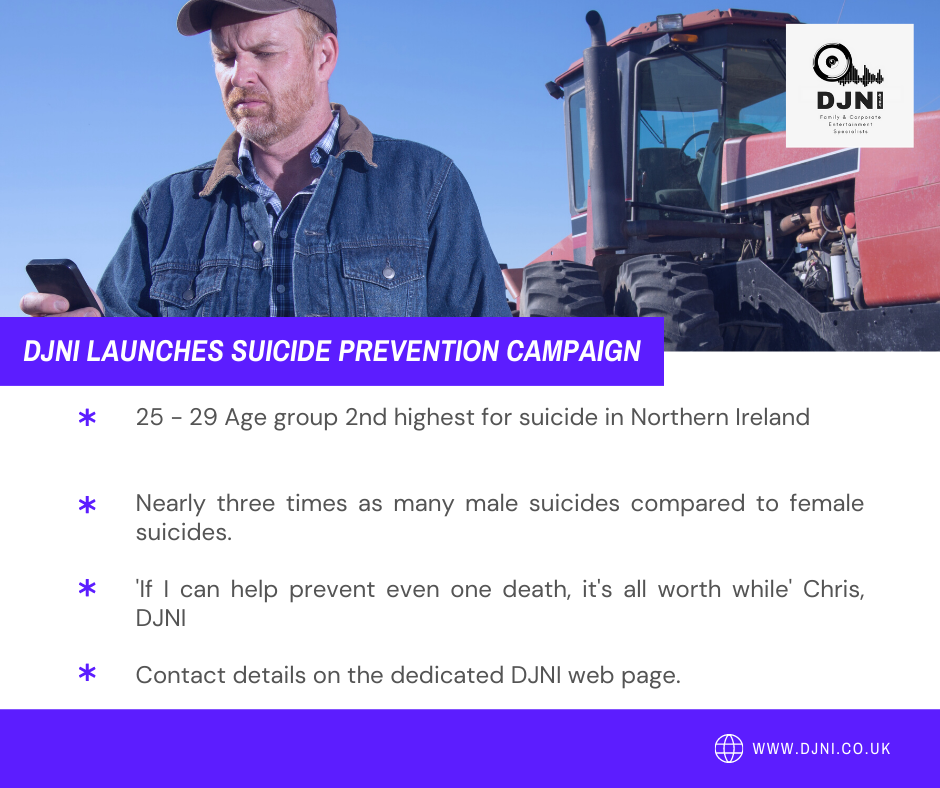 Suicide over the over the last 50 years or so in Northern Ireland has been on an upward trend, with the second largest demographic being aged in the late twenties sector.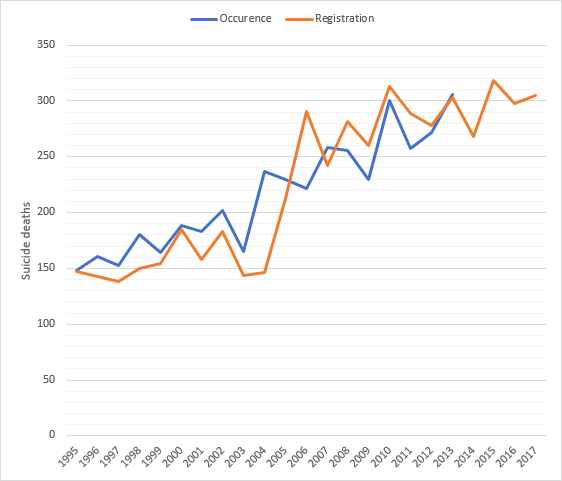 Over the last few years we have developed a great working relationship with a lot of young farmer groups across Northern Ireland. Just earlier this year were saddened to her of a suicide within the Young Farmer community in Co. Antrim and it led DJNI into a promise, a promise to try at the very least to make a difference, a promise to understand, and most importantly a promise to listen. We have a great reach into this group and if we can make a difference, then we have to at least try!
Farming at the best of times can be stressful, isolated and a lonely occupation with family pressures to provide an income, or keep up with what has been passed down the family line, financial pressures on milk and beef prices that are forever fluctuating when there's machinery, sheds and a parlour to pay for and even keeping up with the neighbors down the road.
Our plan was to launch this campaign at our first YFC BBQ booking of the summer, which would actually of been the first BBQ of the season, in Gleno, outside Larne in Co. Antrim but of course the pandemic had other ideas which led to a delay on our part.
As we near the end of 2020 I'm sure we can all agree we'll be glad to see the back of it, but it does bring an err of soberness with it. A year of very little social interaction, a year of isolation, a year of potential financial hardship and struggles. It's a year that weighs heavy on the mind and if you add this with any other struggles outside of the Covid bubble, there is the potential for a lot more mental harm to be done, therefore we decided to push ahead.

Iven from a DJ'ing perspective, the lack of gigs, the music banter, the craic with folk over the microphone, it's a big part of my life I miss, and that gts me down. No matter who we are, we cant say that 2020 hasn't affected any of us in a mentally negative way.
I'll be honest myself, ending my life is something I've thought about before, not in recent times, before any friends or family reading this gets worried, but I do believe it's not the easy way out, it's a tough decision to come to, and then there are the heartbroken friends and family that are left to pick up the pieces. Nothing in this world is worth ending your life over, you're worth so much more than that.
Quite often it is tough to talk to the people we know about something so serious. After all, these are the people that think we 'have got it together' or that we're 'living our best life' and sometimes it's easy to talk to someone we don't know, someone impartial and that's where we come in.

Although we're launching this with Farmers in mind, if anyone feels like reaching out, please do.
This world around us can feel distant, dark sometimes but there is a light in each of us. We can all be there for each other, support one another, be positive, be a light.
Below is a simple form if you feel you want to talk. Everything is treated in strictest confidence and will not be shared with anyone. We want to help, we're not here to judge, to condemn. Give us the chance and we'll come along side you, try to show you the situation in a positive light. We might not hold all the answers, but in every situation there's always hope!
The most important thing you can do it talk about it!

Going forward, we are going to make sure that every young farmer attending one of our bookings, receives information on suicide prevention and the appropriate channels on who to talk to if and when needed.
talk@djni.co.uk // 07849 082 858